In the "You Learn Something New Every Day Department:" B&M Baked Beans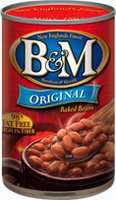 All this time, all these years, I've been driving by the Burnham & Morrill building that you can see to the right of the Washington Ave. exit on 295 in Portland.

I knew that they made B&M Baked Beans there, but what I DIDN'T know was that B&M Baked beans are a Maine institution, made here and only here. I'm not a big fan of baked beans in general, but these are a staple around here, and now I know why. Another product that they make is brown bread. I don't really like it either, but I never knew where it came from. Turns out, it's often a can. Who knew? Well I'm sure lots of people did, but I didn't.