Sooooo Much Italian Food
For some reason, probably because it seems to be the epitome of "World Cuisine" around here, there is a proliferation of Italian restaurants. They range from so-so to good, with none of them being exactly spectacular. In addition to the 3 stand-bys I've been to, there is also a new one, with a Wine bar, called Espo's that I'm eager to try, so I can't speak of that one yet.
At any rate, at the lower end of the scale we have Marco's in Lewiston. Now Marco's has actually been around for a very long time, and just recently reopened after a fire gutted their previous location downtown. Rather than rebuilding in the downtown location, they chose to open in an industrial park. The new location is a lot bigger, and has plenty of parking. The interior design is open, but not anything special, which is fine. The food however, was unspectacular. It wasn't bad, but it was really pedestrian. The portions were HUGE, but I'm not looking for that. I'm actually kind of getting sick of this American move to quantity = quality. Give me a nicely sized single chicken breast, with a great sauce or topping, and an interesting side and I'm happy. The portion at Marco's consisted of two large-ish heavily breaded chicken breasts, with a piece of fairly fatty prosciutto between them on top of mushrooms, all in a heavy sauce. The Italian potatoes weren't bad, nor were the carrots, but it was really too much and it just didn't pack a lot of flavor or freshness. Like I said to my dining companion, it's safe Italian for people who have lived here many years. Granted Macro's is newly opened, and it could improve, but the current food seems to me to be just like it was in their previous incarnation, so I'm not sure that will change much.

Overall: 2 out of 5 red wine glasses (needs improvement)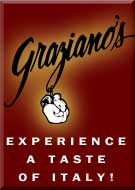 Taking a definite step up, food wise, is Graziano's Casa Mia Restaurant in Lisbon. With a boxing theme and a kind of worn, shady lounge area, here the food was more reasonably portioned (still too much though) and just... better. The dishes at Graziano's have more flavor. The last time I was there, I had this Italian sausage and zitti dish in a marinara sauce and it was quite good. The bread they provided was also pretty good. Not artisan or anything, but I wouldn't really expect that. The selections on the menu were nothing to write home about, pretty standard fare, but I haven't been unhappy with anything I've had. The decor, well it's like early 70's threadbare, with boxing pictures adorning the walls. You don't go here for the decor. Seriously, I remember eating there as a child many, many years ago, and I think the place is pretty much the same now as it was then. Parking can be a bit "odd" but it's more or less plentiful. Overall, it's got a good "local vibe" going, and the food and prices aren't too bad.

Overall: 3 out of 5 red wine glasses (not bad)

Finally, we have DaVinci's Eatery in the Lewiston Bate's Mill. I love the location, and decor is pretty cool, considering it's in an old textile mill, but they use that to their advantage. The food here is fresh and has a lot of flavor, and in addition to standard Italian fare, you can get decent brick oven pizza. They still serve over-large portions, but they also feature "smaller" entrees, with is a nice touch. My last time there, I had a pretty standard Chicken Parm dish, but the sauce was fresh, and the mozzarella was smooth and tasty. Options for what kind of pasta you want is also a nice touch. Beware if you click through to their web site though, as annoying, loud "God Father" music plays and restarts with every page you load. (Seriously, any web developer who builds a web site that plays unnecessary music you can't even control should be taken out behind the woodshed and shot). The two downsides to DaVinci's current location is size, and parking. First, be prepared to wait at peak times, like Cambridge wait, an hour or more, but you can call for reservations. Second, you probably want to park in one of the free garages across the canal from the restaurant, as parking at the restaurant itself is thin.

Overall: 3 out of 5 red wine glasses (not bad)
I have yet to try Espo's which is a newly opened Trattoria and wine bar at the end of Lisbon Street. This is run by the same people who own Esposito's in Portland, and I've heard good things about that place.