Amato's - Home of the original Italian Sandwich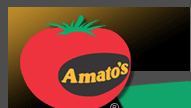 One of my favorite things about being up here is that instead of only being able to grab an
Amato's
"Original Italian" once in a great while when visiting, I can now grab one any time I want. I first had one with my high school friends Dave and James at, I think, the original India Street location. We used to grab one whenever we had the chance.
So what's "A Real Italian" sandwich? As far as I know, it's a Maine thing. You take really soft, fresh italian sandwich bread, add ham, fresh tomato slices, these amazing spicy sweet/sour pickles, cheese, black olives, and for some people, onions and green peppers. Drizzle some oil on it (which I think it a combination of canola and vegetable), top it with salt and pepper and you have a Maine "Italian Sandwich." This I think is what makes Amato's Amato's, their Italians. Oh, they make other things and I'm sure they are fine, but honestly, I've never made it that deep into their menu.

Now, for fans like me, they also have the
Amato's Tamatos Club
, which "entitles you to some truly fantastic benefits including special coupons and a newsletter with exclusive discounts and contests that only club members can win." Gotta love it.
If I had one gripe, it's that the Auburn location, which used to be a full service franchise, was closed in lieu of one of these "Amato's Express" branches in an Irving convenience/gas location. Just not the same. I much preferred the full size store, though the express has improved since opening.
Overall: 5 out of 5 tomatoes (most excellent!)